COMPOUND α- KETOACID TABLETS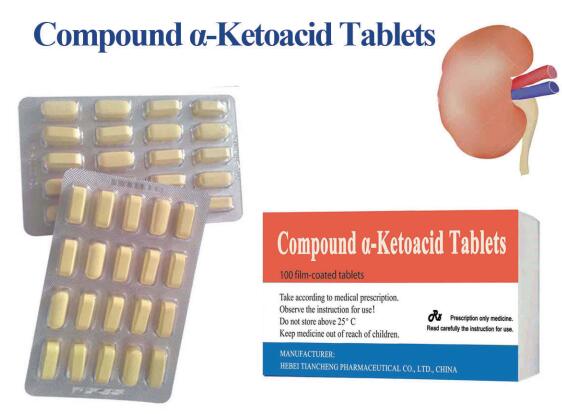 【Product Name】Compound α- Ketoacid Tablets
【Therapeutic Category】Nutritional supplement
【Strength】630 mg
【Inner packing】 96 or 100 tablets/box
【Storage】Below 25 ℃, dry place
【Validity】 36 months
【Ingredients】 This compound, containing four kinds of ketone amino acid calcium, and one kind of hydroxyl amino acid calcium and five kinds of amino acids. The composition is as follows: D,L-α-Ketoisoleucine Calcium 67mg, α- Ketoleucine Calcium101mg, α-Ketophenylalanine Calcium 68mg, α-Ketovaline Calcium 86mg, D.L-α-Hydroxymethionine Calcium 59mg, Lysine acetate 105mg, Threonine 53mg, Tryptophan 23mg, Histidine 38mg, Tyrosine 30mg.
Total nitrogen / tablet 36mg
Total calcium / film 1.25mmol ≈ 50mg
【Properties】Yellow film.
【Indications】
With the low-protein diet together, to prevent and treat the damage caused by protein metabolic imbalance because of chronic renal function's insufficiency. This drug is usually used to patients with glomerular filtration rate lower than for 25ml per minute. Low protein diet requires the adult protein intake at 40g daily or less than 40g daily.
【Dosage】
By oral administration. 3 times a day, 4 to 8 tablets every time. Swallow whole tablet during the meal. If necessary, be directed by physician. This dosage is calculated according to adult body weight of 70kg.